How do application, test and support manager roles and related responsibilities change in Agile at Scale? Learn how Agile at Scale reallocates these responsibilities.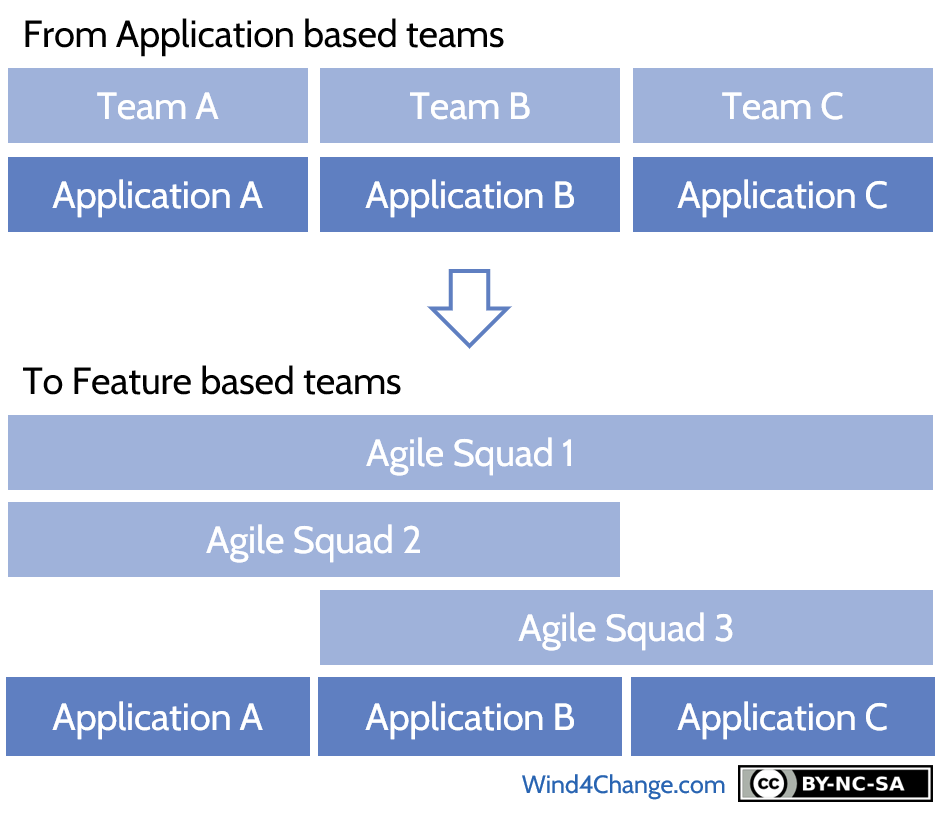 As we have seen, Agile at Scale comes with a change from teams aligned on applications to teams aligned on features.
In addition to the changes coming with Agile, this has an impact on how responsibilities are allocated over the roles impacted.
This reallocation of roles is specific to this Return of Experience and is not coming from Spotify Model.
What is the change with the roles and related responsibilities in Agile at Scale?
Before the Agile and Agile at Scale transformation, there are 3 roles related to IT build and run:
The Team Manager also called Application Manager managing the development team members, the delivery and the underlying application
The Test Manager in charge of additional tests at least QA tests depending on the test maturity of the development team
The Support Manager in charge of the IT Production Support
We can split those responsibilities in 3 areas:
Firstly, build and run of the application
Secondly, people development
At last, Application/Asset Management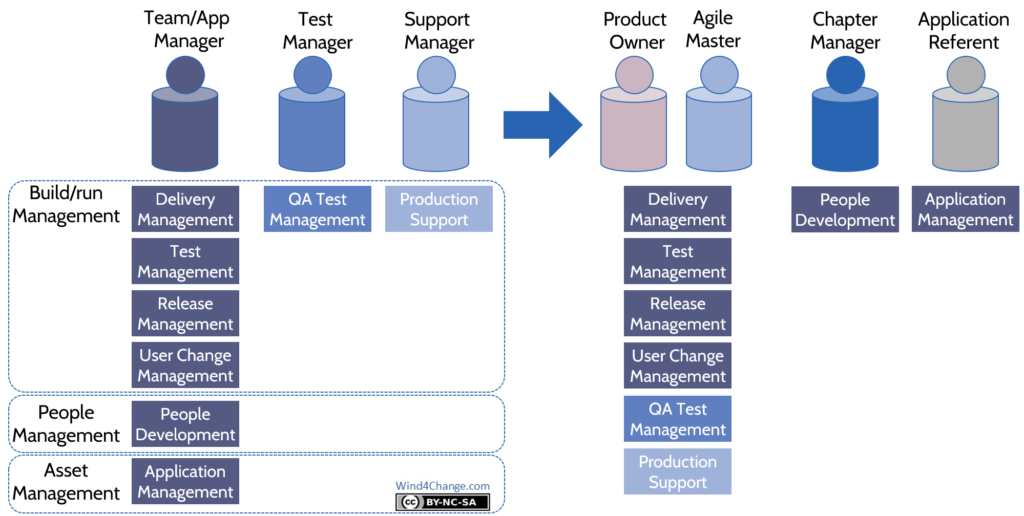 ---
How do the responsibilities of those roles reallocate in Agile at Scale?
The pair Product Owner/Scrum Master is in charge of leading the build and the run of the Product/Service.
The chapter manager plays the role of people developer, career manager and manager of related administrative aspects in addition to facilitating his/her Chapter.
The Application Referent is in charge of many sensitive activities related to the application. This new role is created for the application with a different name to stress that the responsibilities are different from the old role of the Application Manager. For some of the responsibilities, there is a delegation to the Agile Squads contributing to the application but the Application Referent remains Accountable:

Firstly, activities where the Application Referent has the lead (Based on ITIL Service Delivery):

IT Vendor Management, Outsourcing and SLA,
Capacity Management,
Finance Management,
Business Continuity and Disaster Recovery,
Security Management,
Compliance and Regulation (quite important in a bank),
Application decommissioning.

Secondly, activities where the Application Referent has the lead to consolidate needs but rely on Infrastructure Team for execution (Based on ITIL Infrastructure Management): all activities about design, deployment and support of infrastructures.

Thirdly, activities where the Application Referent is a gatekeeper. Indeed, this activities are managed at the level of the Agile Squads and are supported by the Chapters and the Leagues:

Requirement acquisition and Development (Business needs collection and prioritization, follow up of development and project management guidelines, testing guidelines…),
Architecture: all major changes should involve the Application Referent,
IT Services Delivery (Based on ITIL service support Change, Release, Incident, Problem and Configuration Management).
---
What's next? Learn more about Agile at Scale
Check my other posts about Agile at Scale: