What is a Product Management Team ?
A PMT or Product Management Team is the equivalent of the Product Owner but at the level of the Tribe. It is a Scaled Agile Product Owner. But it is a Team because it is usually difficult to have a single person to represent the whole business covered by the Tribe. Indeed, it is a group of senior business stakeholders, plus the Tribe Manager.
What are the characteristics of a Product Management Team?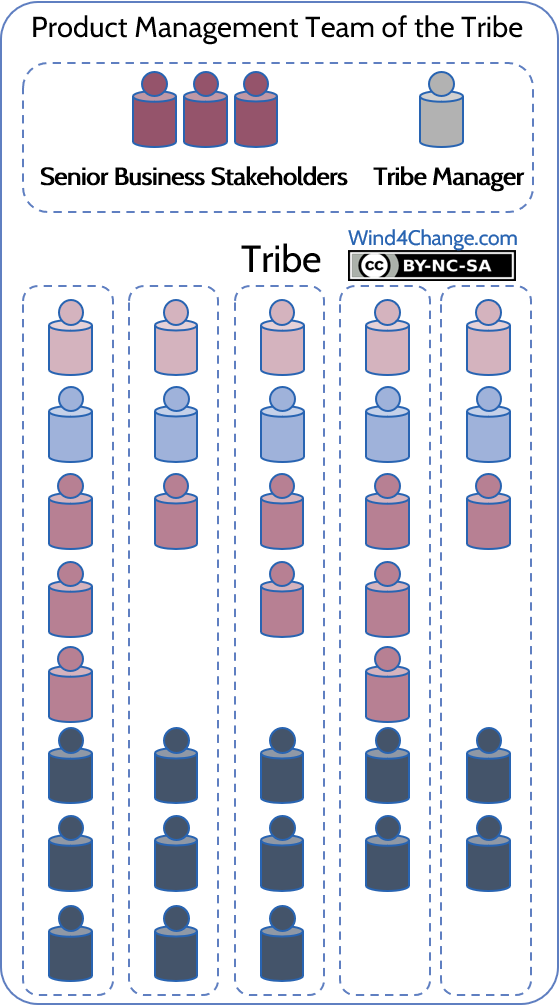 Let's remind the role of the Product Owner: the PO carries the voice of the customer, maximizes value and validates features.
The PMT delivers a similar mission for the Tribe:
Build the business strategy and vision that the Tribe will deliver and is responsible for working with the hierarchy of the company to provide the budget to the Tribe.
Prioritize the list of initiatives to deliver (group of features also called Agile Epics) to maximize value.
Validate these initiatives and there outcomes.
Steer the performance of the what is delivered by the Tribe either the build and the run.
All this:

Liaising by the flow with the business they are standing for so they properly carry their voice and are connected to the reality of the field.
Instantiating the business strategy and vision coming from the upper levels of their company.
Interacting by the flow with the Product Owners to cascade the vision and the overall prioritization and collecting the field feedbacks.
---
What's next? Learn more about Agile at Scale
Check my other posts about Agile at Scale:
Here is a collection of references about the Spotify Model